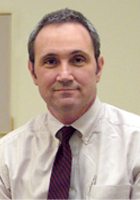 Dr. Lisa Perez
Dr. Lisa Perez was born and raised in Staten Island, New York. She is a graduate of the University of Pennsylvania and earned her medical degree from the University of Medicine and Dentistry of New Jersey. She completed her residency in Emergency Medicine at East Carolina University in Greenville, North Carolina. She is Board Certified in Emergency Medicine. She moved to the Atlanta area in 2000 and has been an active member of the medical community. She joined the Circulatory Center team in 2011.
Louis Certo, M.D., F.A.C.S.
Medical Director Circulatory Centers
A graduate of St. Vincent College in Latrobe, Dr. Certo earned his medical degree from the University of Rome in Italy. He then completed a five year residency in General Surgery here in the United States. He is on the staff at UPMC St. Margaret and UPMC Passavant Cranberry. He also has surgical privileges at surgery centers in Erie, Austintown and Cleveland Ohio. Dr. Certo is Board Certified and Recertified in General Surgery. For the past ten years he has devoted most of his practice to venous surgery and has been associated with the Circulatory Centers since 1997. He is a current member of the American college of Phlebology.

Robert A. Musson, M.D.
Associate Medical Director/Staff Physician
Dr. Musson was born and raised in Akron, Ohio. After receiving a Bachelor of Science Degree in Biology from the University of Akron in 1985, he attended The Ohio State University College of Medicine in Columbus, Ohio, where he received his M.D. in 1989. After a three year residency in Family Medicine at Akron City Hospital, he became Board Certified in that field in 1992. He joined Circulatory Centers in 1992, and it was here that he received additional training in the field of Phlebology, or vein care medicine.

Dr. Musson is an Active Physician Member of The American College of Phlebology, the principal American professional society in Phlebology.

Dr. Musson is also an accomplished author and has written an informative book on the subject of varicose veins titled, "Varicose Veins and Spider Veins: Myths and Realities."