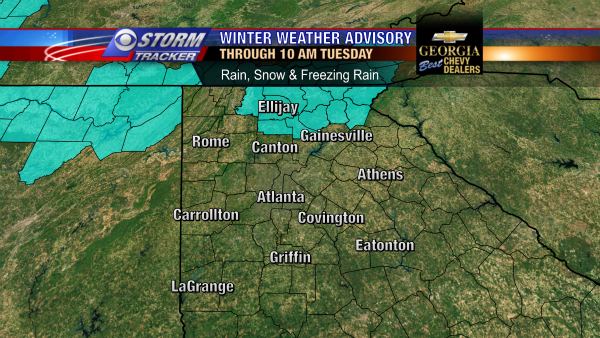 ATLANTA (CBS46) -
A Winter Weather Advisory remains in effect for far north Georgia where rain, sleet and snow is expected to continue through mid-morning. Locations from Ellijay eastward in the northeast Georgia mountains could also experience hazardous travel conditions.
Rain and sleet is expected to continue in metro Atlanta through early Tuesday morning with no accumulations. All wintry precipitation should change over to rain by your morning commute in Atlanta with rain moving out by noon.
Several schools in North Georgia are opening two hours late Tuesday morning. They include: Catoosa Co. schools, Dade County schools, Dawson County schools, Lumpkin County schools, Union County schools, and Truett-McConnell College.
Storm Tracker Live: watch live streaming video of Storm Tracker live 24-hours a day, 7 days a week.
WeatherBug: get real-time weather conditions and cameras using CBS Atlanta's exclusive WeatherBug network online!
Forecasts & Video: get the latest forecast and video from the CBS Atlanta Storm Tracker Weather Center Online.
Copyright 2012 WGCL-TV (Meredith Corporation). All rights reserved.