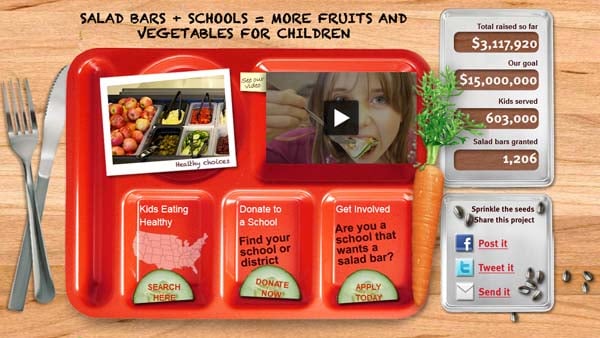 ATLANTA (CBS46) -
In partnership with Let's Move Salad Bars to Schools and CBS Atlanta News, the Atlanta Falcons Youth Foundation is donating salad bars to 15 Georgia Schools.
Let's Move Salad Bars to Schools is a national effort to increase the amount of variety of fruits and vegetables in school lunchrooms. The donations are part of the AFYF's ongoing work to reduce childhood obesity and improve youth fitness in Georgia.
The winners are:
Berkmar Middle School, Gwinnett County
Couch Middle School, Gwinnett County
Knight Elementary School, Gwinnett County
Buice School, Gwinnett County
Atlanta Preparatory Academy
Atlanta Neighborhood Charter School
Drew Charter School, Atlanta
KIPP Atlanta Collegiate
KIPP South Fulton Academy
Tucker High School, DeKalb County
Baldwin County Schools (2 schools)
Floyd County Schools
Carrollton City Schools
Polk County Schools
To date, the Let's Move Salad Bars To Schools program has awarded salad bars to more than 1,200 schools across the country, providing more than 600,000 students more fruit and vegetable options in school cafeterias.
The AFYF awards culminate a two-month statewide campaign to promote salad bars. AFYF received requests for salad bars for more than 40 schools. In addition to the salad bar donations, AFYF is providing nutrition staff at winning schools with training on how to manage the salad bars successfully.
Let's Move Salad Bars to Schools is seeking donations for the other eligible schools not yet funded.
Schools may continue to apply up until June 1, when the application process will close during the summer break. Let's Move Salad Bars to Schools will open the application process again September 1.
Visit saladbars2schools.org for more information on donating to salad bars and submitting applications.
Copyright 2012 WGCL-TV (Meredith Corporation). All rights reserved.