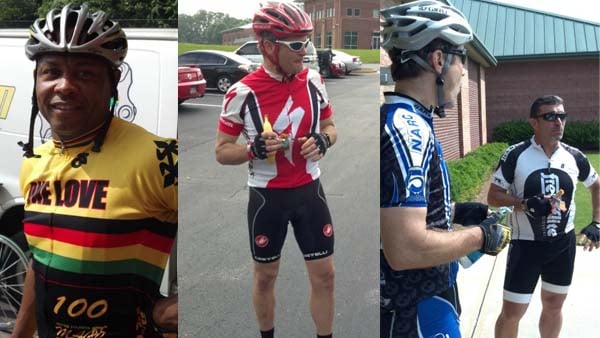 FLOWERY BRANCH, GA (CBS46) -
Atlanta Falcons General Manager Thomas Dimitroff participated in National Bike to Work Day on Friday morning. Dimitroff pedaled from the 2900 block of Peachtree Road in Buckhead to the Falcons practice facility in Flowery Branch, covering approximately 40 miles.
Dimitroff was joined by members of the Falcons front office as well as Atlanta Bicycle Coalition (ABC) Board Chair Atiba Mbiwan, owner of Free-Flite Bicycles Dan Thornton, ABC members and volunteers Tim Ho and Jeffrey Wisard, and ABC League cycling instructor Neil Walker.
"Cycling has always been something that I have enjoyed," said Dimitroff. "On Friday, I get to combine my enjoyment for cycling with my passion for the Atlanta Falcons. I am pleased to work with the Atlanta Bicycle Coalition again as we support Bike to Work Day. May is National Bike Month and I hope that everyone gets a chance at least one day this month to get out and spend some time on their bike."
National Bike to Work Day was originated by the League of American Bicyclists in 1956 and is a part of National Bike Month, which is held every May.
Dimitroff has participated in a number of cycling events during his time with the Falcons, including the ABC's 2011 BeltLine Bike Tour and the Pedal with a Purpose to benefit Georgia Cancer Foundation 100-mile ride in 2010. Through cycling, Dimitroff has made an effort to promote physical fitness, health and wellness. He has also committed to helping the ABC support a bicycle friendly Atlanta.
Copyright 2012 WGCL-TV (Meredith Corporation). All rights reserved.