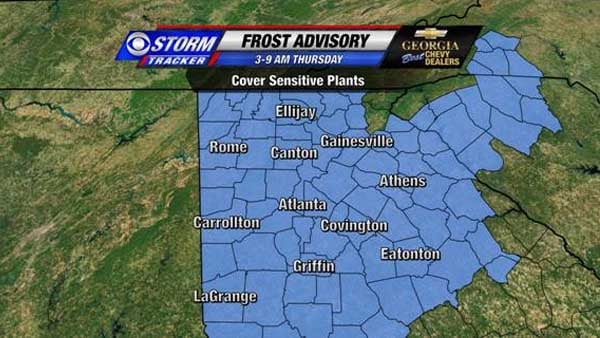 ATLANTA (CBS ATLANTA) -
A Frost Advisory has been issued for all of metro Atlanta from 3 a.m. to 9 a.m. Thursday.
Temperatures are expected to be in the mid 30s Wednesday night across the area.
"The actual air temperature and dewpoint will be close together in the morning to produce some frost. If you have plants or tender vegetation outside, make plans to protect them overnight," said CBS Atlanta's Severe Weather Meteorologist Cris Martinez.
A warming trend is expected to take place after the storm system moves out of Georgia in the next 24 hours.
For the latest forecast information, including live radars, weather cameras and a look at the rest of this week's weather, go to CBSAtlanta.com's weather page.
Copyright 2012 WGCL-TV (Meredith Corporation). All rights reserved.