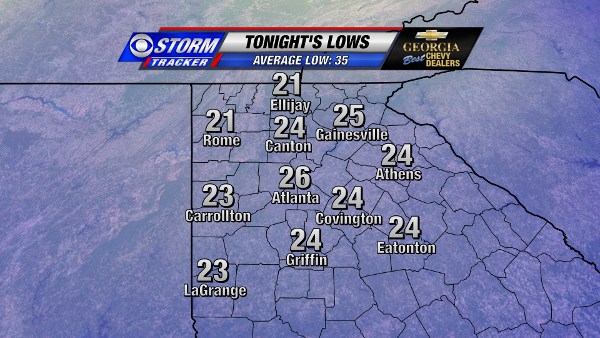 Low Temperatures for Saturday Morning
ATLANTA (CBS ATLANTA) -
Much colder temperatures will continue to filter into Atlanta over the holiday weekend.
The coldest temperatures of the season are expected Saturday morning as low temperatures drop into the lower 20s in Metro Atlanta.
The cold temperatures will combine with a strong northwest wind -- at 10-20 mph -- to produce even colder wind chill values, which are expected to drop into the teens.
The wind chill temperature measures how the air will actually feel on your skin when combined with a strong wind.
Temperatures are not expected to warm-up much Saturday afternoon with below-average highs in the lower 50s.
Copyright 2012 WGCL-TV (Meredith Corporation). All rights reserved.