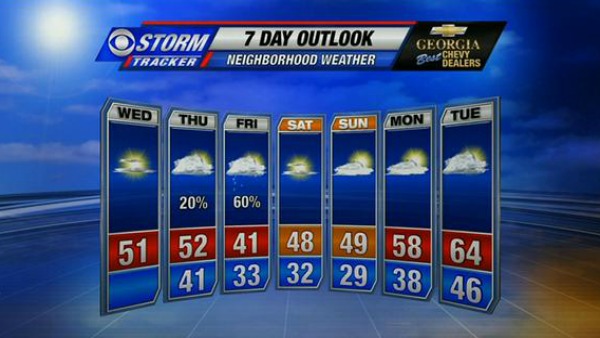 ATLANTA (CBS ATLANTA) -
A shot of cold air will move in to the Metro Atlanta area on Thursday night, bringing the possibility of sleet or freezing rain on Friday morning.
A disturbance bringing gulf moisture will override the air mass, which will lead to the potential for wintry weather.
The possibility for wintry weather will depend on how close the temperature is to freezing on Friday morning. The current forecast for the morning is 32°.
Check out CBS Atlanta's weather coverage here, and watch CBS Atlanta News at 4, 5, 6 and 11 p.m. for the latest forecast.
Copyright 2013 WGCL-TV (Meredith Corporation). All rights reserved.