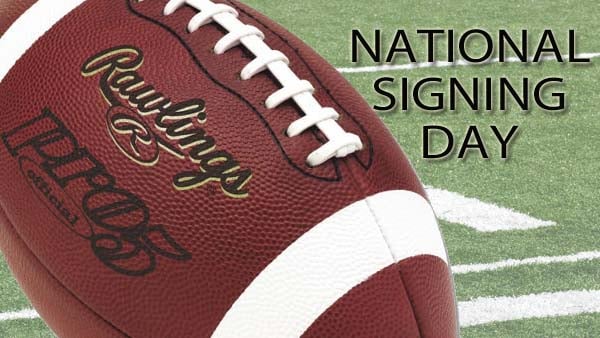 ATLANTA (CBS ATLANTA) -
National Signing Day is upon us and announcements are abound.

Robert Nkemdiche, a defensive end at Grayson High School, announced Wednesday morning he will be playing for The University of Mississippi.
The 6-foot-5, 260-pound defensive end from Loganville has been on several programs' wish list for more than a year, but Ole Miss appeared to be his destination for months because of close family ties. His brother Denzel Nkemdiche plays for the Rebels and he led the defense with 82 tackles, including 13 for a loss last season.
Wednesday is the first day prep football recruits could officially sign with colleges.
Here's a list of the new Georgia Bulldogs as they come in:
Rico Johnson
Shaun McGee
Johnny O'Neal, a 6'2" 225 linebacker from Dublin, Ga.
Reggie Davis, a 6'0 wide receiver from Tallahassee
Uriah Lemay, a 6'2 WR from Matthews, N.C.
Brandon Kublanow, a lineman out of Marietta
Paris Bostick, a 6-1, 217 safety from Tampa, Fla.
Brendon Langley, a 6'1 CB from Marietta
Leonard Floyd, a 6'4" 220 LB
Shaq Wiggins a 5'10" CB from Tyrone, Ga.
A.J. Turman, a 6'0" RB from Orlando, Fla.
Kennar Johnson, a 6'2" safety from Perkinston, Miss.
De'Andre Johnson, a 6-3 DL from Newnan, Ga.
Jordan Davis, a 6'4" TE from Thomson, Ga.
Here's a list of the new Georgia Tech Yellowjackets as they come in:
Travis Custis – RB /6-0/215/Hampton, Ga. / Lovejoy HS
Paul Davis – LB / 5-11/188/Cairo, Ga. / Cairo HS
Ty Griffin – QB/6-0/185/Atlanta, Ga. / McEachern HS
Harrison Butker – K /6-3/190/ Decatur, Ga. / Westminster
John Marvin DB/6-1/190/Ft. Walton Beach, Fla./ Ft. Walton Beach HS
Ricky Jeune WR/6-3/205/Spring Valley, N.Y./Saint Joseph Regional HS (NJ)
Antonio Messick – WR/6-3/193/Fayetteville, Ga. / Fayette County HS
Kevin Robbins – DL/LB/6-4/230/Forestville,Md. / Bishop McNamara HS
Donovan Wilson – A-Back/6-0/210/Dublin, Ohio/Jerome HS
Chris Griffin – OL/ 6-6/265/Panacea, Fla./ Wakulla HS
Justin Akins - DL /6-4/240/ Jenkinsburg, Ga./Jackson HS
Darius Commissiong–DL /6-3/305/Forestville, Md. /Bishop McNamara HS
Corey Griffin – A-Back/6-2/195/Tyrone, Ga./Sandy Creek HS
Shamire DeVine – OL / 6-7/355/Atlanta, Ga. / Tri-Cities HS
Here's a list of the new Georgia State University Panthers as they come in:
OL Davis Moore of Loganville (Ga.) HS
Will Cunningham, DL from Cape Coral, Fla.
Alex Stoehr, OL from North Gwinnett
Daniel Zeigler, OL from South Gwinnett
TE Keith Rucker of Cincinnati Moeller
OL Brandon Pertile of Clearwater, Fla.
TE Sebastian Willer of Calhoun, Ga.
DL Tevin Jones of Luella High
DL Jalen Lawrence of Westside Macon
LB Jameel Spencer of Woodward Academy
DE Shawayne Lawrence of Eagle's Landing
TE Bill Teknipp of Eagle's Landing
DL Carnell Hopson of South Paulding High
LB Kight Dallas of Stephenson High
WR-DB Tyshaun Clemmons of Gordon Central High in Calhoun
DE-OLB Mackendy Cheridor from Columbia HS
RB Kyler Neal from East Paulding
CBSAtlanta.com will update this story throughout the day as announcements are made.
Copyright 2013 WGCL-TV (Meredith Corporation). All rights reserved.