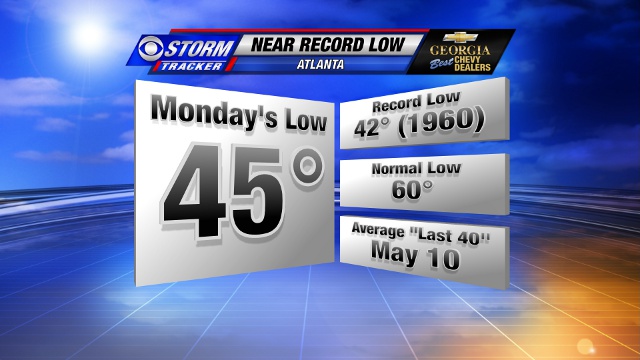 A weekend cold front produced unseasonably cold temperatures in North Georgia Monday. CBS Atlanta's exclusive WeatherBug network reported a low of 33 degrees at East Fannin Elementary school in Morganton, Georgia.
The official low temperature in Atlanta on Monday was 45 degrees, which is 15 degrees below the normal low for this time of year of 60.
Atlanta's low was just 3 degrees shy of the record low of 42 degrees, which was set in 1960.
While morning temperatures were well-below normal, it's not unusual to see the 40s in May. The last 40-degree temperature in Atlanta usually occurs on May 10.
The official temperature for Atlanta is recorded at Hartsfield-Jackson Atlanta International Airport, located about seven miles south of Downtown Atlanta.
Copyright 2013 WGCL-TV (Meredith Corporation). All rights reserved.