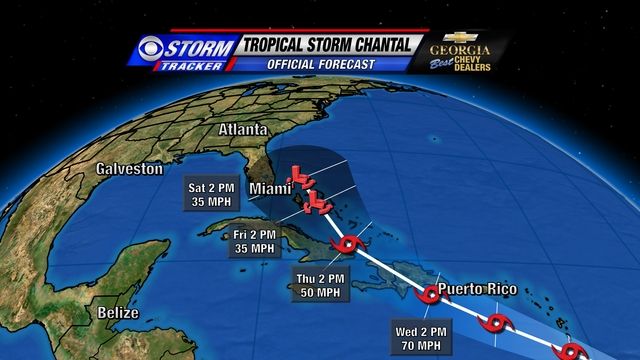 ATLANTA (CBS ATLANTA) -
Tropical Storm Chantal developed late Sunday night in the Atlantic ocean and became the third-named storm of the 2013 Atlantic hurricane season.
Latest Information
The system is currently a weak tropical storm with winds of 45 mph. Tropical systems are classified as a tropical storm when winds reach 39 mph.
A Tropical Storm Watch is currently in effect for the U.S. Virgin Islands. A watch means that tropical storm conditions are expected within 48 hours.
Forecast and U.S. Impact
Chantal is forecast to move into the Caribbean on Tuesday and near southeast Florida by Friday afternoon, bringing rain to the Florida panhandle. As the storm moves closer to Florida, it is expected to weaken to a tropical depression.
The storm is not currently forecast to impact Atlanta.
2013 Hurricane Outlook
The 2013 hurricane season is expected to be above average in the Atlantic with 13-20 named storms, 7-11 hurricanes and 3-6 major hurricanes forecast.
Hurricane season ends on November 30.
Copyright 2013 WGCL-TV (Meredith Corporation). All rights reserved.