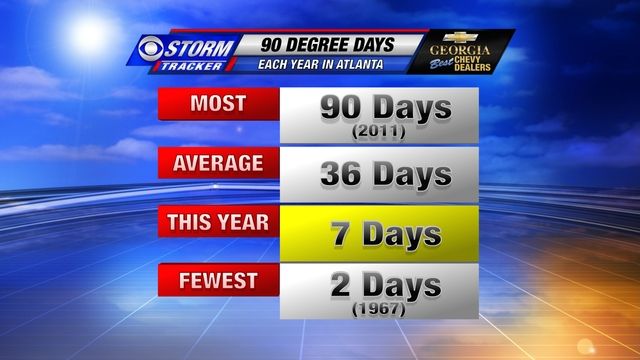 ATLANTA (CBS ATLANTA) -
Above-average rain has produced much cooler temperatures this summer in Atlanta. Compared to other years, the number of 90-degree days this year is substantially lower than average.
Atlanta has seen seven 90-degree days through Aug 1, which ranks as the third-fewest in a single-year since records have been kept.
Most 90-degree days: 90 (in 2011)
Average 90-degree days: 36
Total 90-degree days this year: 7
Fewest 90-degree days: 2 (in 1967)
Atlanta typically sees its first 90 degree day on June 2, and its last 90 degree day on September 10.
Copyright 2013 WGCL-TV (Meredith Corporation). All rights reserved.