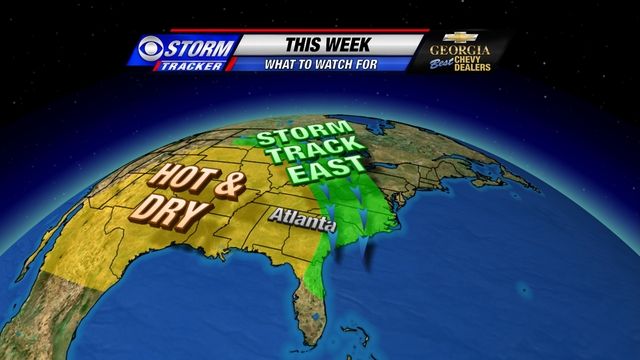 ATLANTA (CBS ATLANTA) -
We'll see a pattern change this week that will finally give us more summer-like weather in Atlanta.
A huge dome of high pressure will expand from the central U.S. (pictured right) and sit over North Georgia for much of the week.
These domes of high pressure do two things to our weather: heat temperatures up, and shut down the rain.
The storm track -- which has spent much of its time this summer over Atlanta -- will be pushed farther north and east by the ridge of high pressure, helping to keep us mostly dry.
North Georgia will see a gradual increase in moisture through the week, so it's not impossible to see an afternoon storm starting Thursday, but the better chances should remain north and east of Atlanta, closer to the storm track.
Copyright 2013 WGCL-TV (Meredith Corporation). All rights reserved.