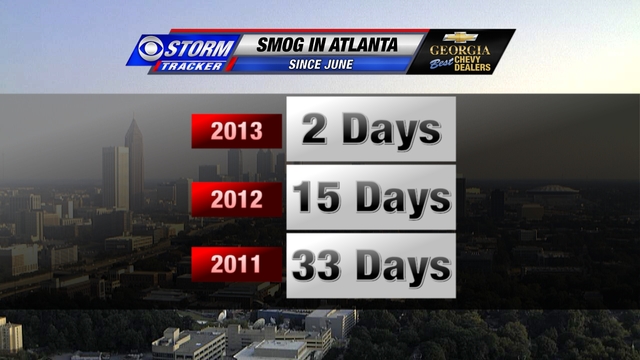 ATLANTA (CBS46) -
Atlanta has seen a very limited number of smog days this year.
As of September 9th, only two smog days have been registered, according to CBS Atlanta's Paul Ossmann.
Atlanta saw 15 smog days in 2012, and 33 smog days in 2011.
The only official Air Quality Alert issued in Atlanta for 2013 was last Saturday, September 7th, which was the first alert in over a year. The previous Air Quality Alert was on August 21, 2012.
We typically get Air Quality Alerts as soon as summer starts. The hot rays from the summer sun combine with emissions from cars to produce low-level ozone -- or smog. There's no doubt that a cooler and wet summer is why we have seen so few smog days this year.
Copyright 2013 WGCL-TV (Meredith Corporation). All rights reserved.