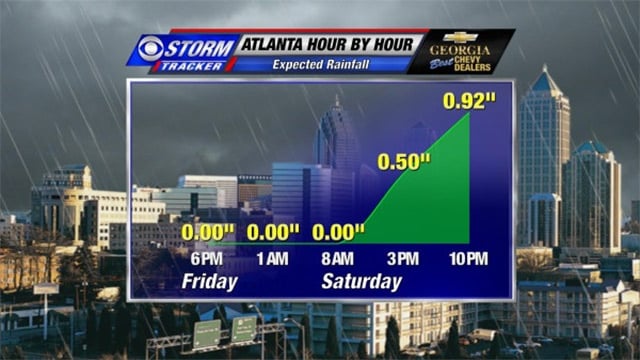 ATLANTA (CBS ATLANTA) -
Rain returns to Atlanta for the weekend. Don't call it a weekend washout, as only Saturday includes rain right now.
But that will make for some tough going for your Christmas shopping, as well as local festivities and the Santa Speedo Run.
Look for light rain to start by 7 a.m., turning heaviest around the middle of the afternoon and then shifting east by sunset. The latest computer models from the Storm Tracker Weather Center call for upwards of 1 1/2" of rain. This will lead to some brief local road and stream flooding and chase you inside for a few hours.
Temperatures won't be much better, either. The cool air wedge will hold in place, keeping highs in the middle 50s. As a cold front passes by on Sunday, it will turn even colder.
We will take you hour-by-hour into your Saturday forecast this evening on CBS Atlanta News.
Copyright 2013 WGCL-TV (Meredith Corporation). All rights reserved.