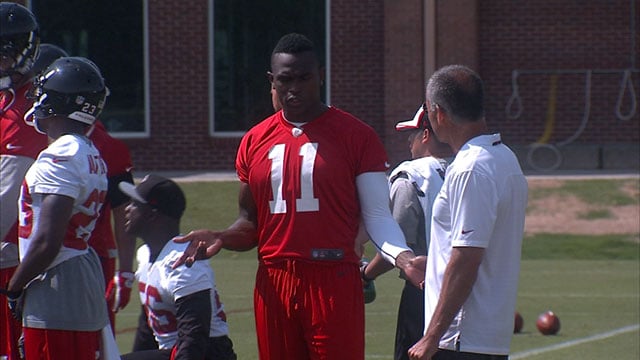 By CHARLES ODUM
AP Sports Writer
FLOWERY BRANCH, Ga. (AP) - Julio Jones says his long recovery from foot surgery "feels like an eternity" as he awaits clearance to join his Falcons teammates in football drills.
Jones was on the practice fields for organized team activities on Tuesday, but only for conditioning work. The star wide receiver said Monday his rehabilitation is ahead of schedule. He says "extra precautions" have kept him from being cleared for practice.
Asked if he expects to be cleared for the start of Atlanta's training camp next month, Jones said "it's out of my hands."
Jones, a Pro Bowl pick in 2012, was leading the NFL in receptions in 2013 when he broke a bone in his right foot in a Week 5 loss to the Jets.
AP NFL website: www.pro32.ap.org and www.twitter.com/AP_NFL
Copyright 2014 The Associated Press. All rights reserved. This material may not be published, broadcast, rewritten or redistributed.