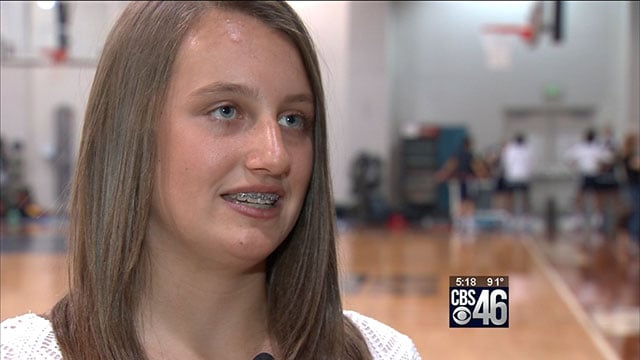 Allie Hood
ALPHARETTA, GA (CBS46) -
Personal tragedy can affect us in many ways. But there's one Alpharetta teen who is turning her tragedy into triumph.
Allie Hood, 13, has always had a passion for basketball. But two years ago, her perspective on sports and life changed forever.
Hood's older brother was killed in a car accident that involved a drunk driver.

"I don't want any other family like mine to go through what I did," said Hood. "It made me realize that you only have so much time on this earth and you don't know what is going to be taken from you."
Hood has become a Georgia Teen Influencer for Mothers Against Drunk Driving, and is on a crusade, telling her story to anyone who will listen, including a chat with the Atlanta Dream, who happen to be her idols.
Hood's passion and dedication won her the APIVEO Player of the Month for June, which included a $1,000 donation from Zaxby's to give to MADD and their pursuit to stop drunk driving.
Copyright 2014 WGCL-TV (Meredith Corporation). All rights reserved.