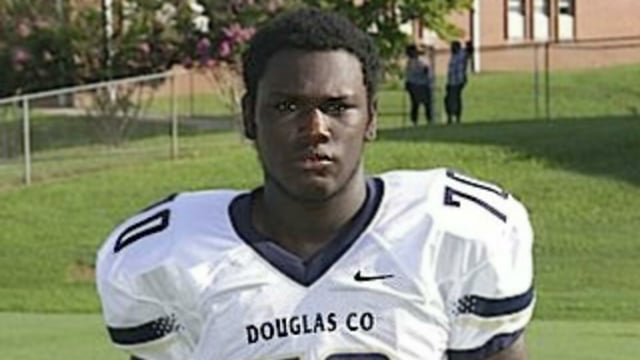 A Georgia high school football player is dead after drinking too much fluid during practice.
Relatives of 17-year-old Zyrees Oliver had him removed from life support early Monday in a hospital in Marietta. He had no brain activity.
Oliver was declared dead a short time later.
Oliver played football at Douglas County High School west of Atlanta.
Relatives say the youth complained of cramping during football practice on Tuesday. Aunt Tammy Chavis says the teen drank two gallons of water and two more gallons of Gatorade.
Oliver's mother picked him up because he couldn't drive, and he later collapsed at home and was taken to the hospital by helicopter.
Relatives say doctors told them Oliver suffered massive swelling around the brain from over-hydration.
The coroner says an autopsy is planned.
The family is attempting to raise money to bring his body to New Jersey through the website GoFundMe.
The City Of Mcdonough issued the following statement via facebook:
The City of McDonough is sad to learn of the passing of Douglas County High School Junior Zyrees Oliver, 17, who started feeling cramps after practice on Tuesday. He collapsed at home and was air lifted to a regional hospital Wednesday morning. Zyrees died this morning (Monday, 8-11-14). As football practice gets into full swing with games not far behind, always practice and play wisely as you should do in any sport in which you participate. Accidents and injuries can happen. Be safe students and athletes.
Copyright 2014 The Associated Press. All rights reserved. This material may not be published, broadcast, rewritten or redistributed.