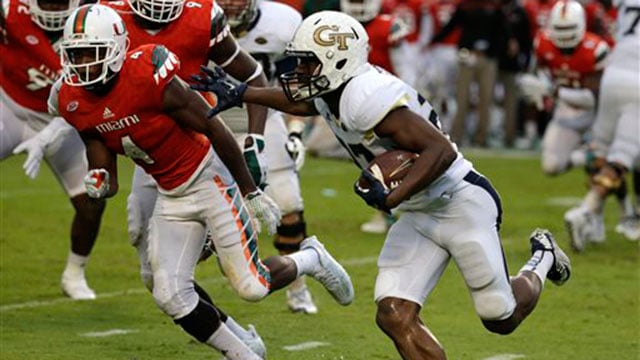 MIAMI (CBS46) -
Brad Kaaya threw for 300 yards and the Miami Hurricanes took advantage of four Georgia Tech turnovers en route to a 38-21 victory over the Yellow Jackets on Saturday.
Both teams were nearly equal in terms of yardage and time of possession but the jackets couldn't overcome the four turnovers.
Georgia Tech was much more disciplined than the Canes, committing just one penalty as opposed to Miami's nine.
The Yellow Jackets have lost 8 of their past 9 games. They will finish their season next week against Georgia.
Miami improves to 7-4 with the win and will finish the season in Pittsburgh against the Panthers.
Copyright 2015 WGCL-TV (Meredith Corporation). All rights reserved.