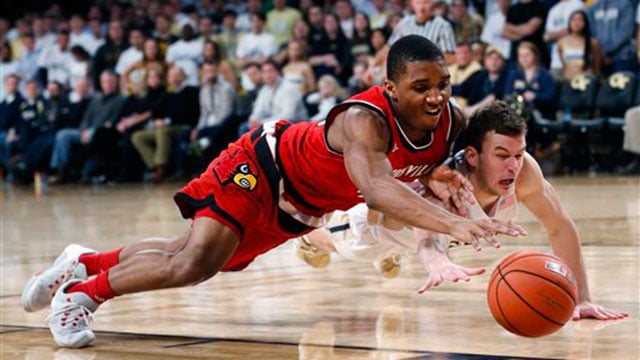 ATLANTA (AP) -
By PAUL NEWBERRY
AP Sports Writer
Damion Lee scored 17 points, Anas Mahmoud added 15 and No. 17 Louisville held on in the closing seconds to beat hard-luck Georgia Tech 75-71 on Saturday.
In a back-and-forth game that was close all the way, Mahmoud was in the middle of a crucial sequence with 1:01 remaining that helped the Cardinals (16-3, 5-1 Atlantic Coast Conference) claim their third straight win.
With the scored tied at 69, the 7-foot sophomore got free under the basket for a pass from Trey Lewis. Georgia Tech's Marcus Georges-Hunt came in from behind to make the block, but he appeared to get Mahmoud with the body. Georges-Hunt, who led the Yellow Jackets with 23 points, fouled out on the play.
Mahmoud made both free throws to give Louisville a lead it wouldn't relinquish.
Georgia Tech (11-8, 1-5) has lost five ACC games by a total of 26 points.
Copyright 2016 Associated Press. All rights reserved.