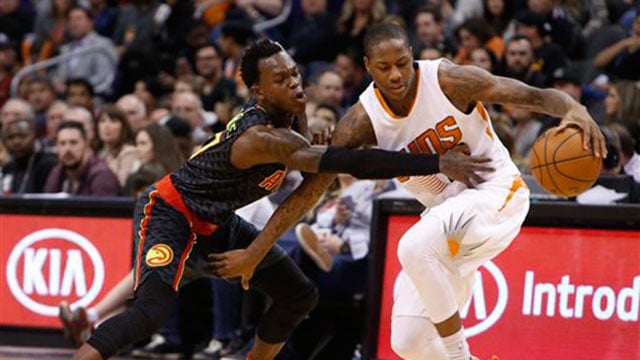 PHOENIX (AP) -
By JOSE M. ROMERO
Associated Press
Archie Goodwin hit a 3-pointer from atop the arc with 0.1 seconds left and the Phoenix Suns beat the Atlanta Hawks 98-95 on Saturday night to end a six-game losing streak.
Goodwin led the Suns with 24 points, and Phoenix won for the second time in 17 games.
Tyson Chandler tied a Suns record with 27 rebounds, including 17 in the first half, and also had 13 points and a season-high five assists.
Kent Bazemore led the Hawks with 21 points. Bazemore hit a tying 3-pointer with 47.4 seconds left, but Chandler's tip-in with 24.6 seconds remaining gave the Suns a 95-93 lead. Bazemore tied it again 5 seconds later, setting up Goodwin's 3.
Alex Len had 16 points and 12 rebounds for Phoenix, while P.J. Tucker scored 16 points and Devin Booker had 15.
Copyright 2016 Associated Press. All rights reserved.