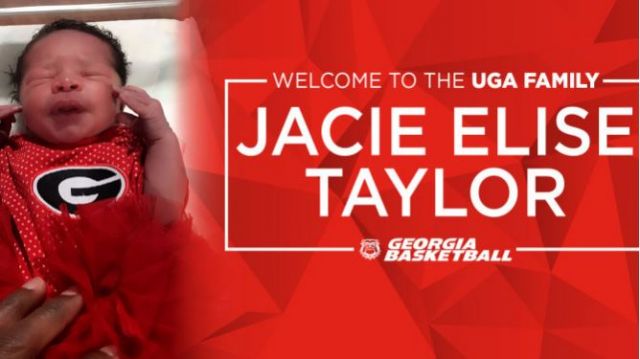 (Source: @UGA_WBB)
ATHENS, GA (CBS46) -
There's a new member of the Georgia womens basketball team, just don't expect her to do much on the court for another 18 years or so.
The team announced Lady Bulldog head coach Joni Taylor and husband Darius welcomed their first child to the world Thursday. Jacie Elise Taylor was born Thursday morning, weighing in at 6 pounds and 5 ounces. According to the school, mom and daughter are resting and doing well.
"Darius and I can't express how blessed we are to be the proud parents of little Jacie," Taylor said in a statement. "She is a beautiful, healthy baby girl and has already brought so much joy to our lives. I want to personally thank everyone for all the prayers and encouragement you have shown us during this time. We are truly blessed and fortunate to be a part of the Georgia family, and are excited that our baby girl will be a part of such a special community."
Taylor is entering her second season as the Lady Bulldogs' head coach. She told CBS46 sports reporter Sherree Burruss in August that she and her husband hoped to have a child in the offseason.
"We actually said 'Watch, we'll make this plan and then it will totally work out a different way.God will have the last laugh," Taylor said.
Georgia opens the season Friday, November 11 against South Carolina State at Stegeman Coliseum.
Copyright 2016 WGCL-TV (Meredith Corporation). All rights reserved.