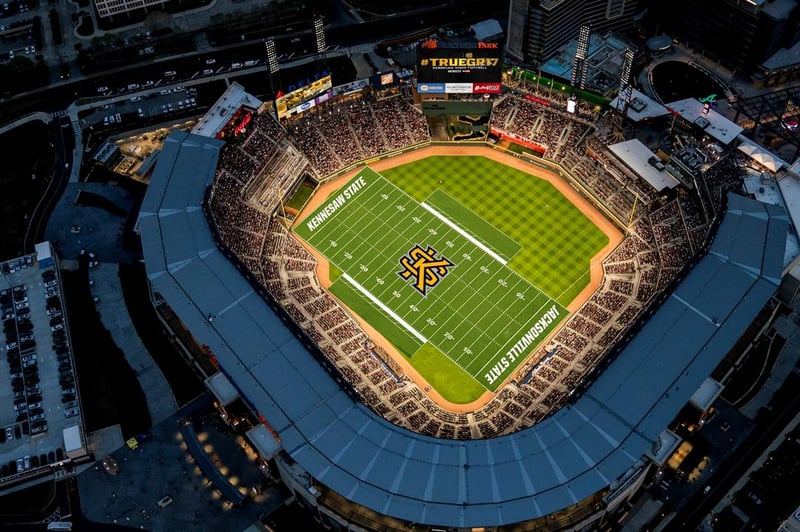 (Courtesy: Atlanta Braves)
COBB COUNTY, GA (CBS46) -
SunTrust Park will lose the batters box and bases in favor of hashmarks and field goal posts. At least, for one game.
The Atlanta Braves will host a football game featuring Kennesaw State and Jacksonville State at their new ballpark on November 17, 2018, the teams announced Friday.
"We couldn't think of a better way to bring football to SunTrust Park than with Kennesaw State," said Mike Plant, Braves president of development. "(Kennesaw State Athletic Director) Vaughn Williams was integral in making this happen and we're excited to host this game for Cobb County and Kennesaw State students, faculty and alumni."
"This is a historic day for so many reasons," said Williams. "I can't thank Mike Plant and the Atlanta Braves organization enough for allowing the Owls to play the first football game at SunTrust Park. We are excited to provide our student-athletes, coaches, fans, and alumni the opportunity to see our football team play in such an incredible and unique venue. I know this will be a great event for Cobb County and the Northwest Georgia region."
As it stands now, the game will be the first football contest ever played inside SunTrust Park.
Kennesaw State will announce more details regarding the game, including game time and ticket information, at a later date.
Copyright 2017 WGCL-TV (Meredith Corporation). All rights reserved.