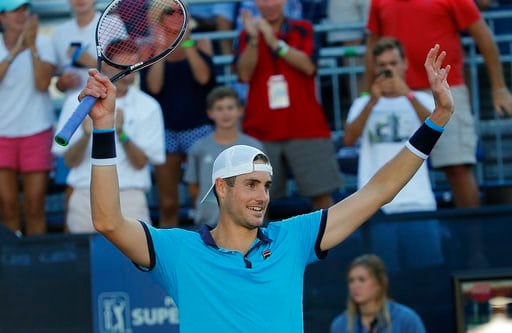 (Associated Press)
By MATT WINKELJOHN
Associated Press
ATLANTA (AP) - John Isner rode an overpowering service game to his fourth BB&T Atlanta Open title, beating fellow American Ryan Harrison 7-6 (6), 7-6 (7) on Sunday before a friendly crowd at Atlantic Station.
The second-seeded former University of Georgia standout has won two straight ATP tournaments since bowing out of Wimbledon in the second round, and the victory Sunday will move him up two spots in the world ranking to No. 18.
Isner has won a third of his 12 ATP titles in Atlanta, where he's reached the finale in seven of of the tournament's eight years and was champion for three straight years from 2013-15. The 6-foot-10 Isner had 23 aces to the fourth-seeded Harrison's 10.
The 32-year-old Isner won the Hall of Fame Open last week in Newport, Rhode Island. All of his titles have come at the ATP World Tour 250 level.
Copyright 2017 The Associated Press. All rights reserved. This material may not be published, broadcast, rewritten or redistributed.